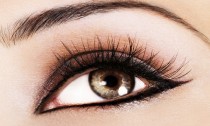 Eyelash Tinting
If the lashes are naturally fair, having them tinted will create a much more dramatic look for your eyes.
Lash tinting is a process where your eyelashes are dyed to make them look darker and is a great option for women who have busy or active lifestyles as you wake up looking like you already have make-up on. When combined with an eyebrow shape it will give your eyes lift, definition and freshness.
Tinting benefits:
Enhance general appearance of eyes
---
Eyebrow Shaping
An change of eyebrow shape can completely change your look. It can give you a well groomed appearance and will accentuate your eyes.
Suitable eyebrow shapes are determined by face and eye shape and last up to 4 weeks.
Eyebrow Shaping benefits:
Balance facial features
Lift eyes
---
Treatments Offered:
Eyebrow Shape – £5
Eyebrow Tint – £5
Eyelash Tint – £10